Aerin`Dar



4 kills

Arch Lich Rhag Zadune



9 kills

Aten Ha Ra



1 kill

Avatar of War



2 kills

Burrower Parasite



9 kills

Diabo Xi Va



2 kills

Diabo Xi Va Temariel



2 kills

Diabo Xi Xin



3 kills

Diabo Xi Xin Thall



3 kills

Emperor Ssraeshza



3 kills

Grieg Veneficus



2 kills

Grummus



4 kills

High Priest of Ssraeshza



10 kills

Kaas Thox Xi Ans Dyek



3 kills

Lord Inquisitor Seru



1 kill

Manaetic Behemoth



1 kill

Shei Vinitras



6 kills

Terris Thule



8 kills

Thall Va Kelun



3 kills

Thall Va Xakra



17 kills

Thall Xundraux Diabo



2 kills

Tunare



2 kills

Va Xi Aten Ha Ra



1 kill

Vyzh`dra the Cursed



1 kill

Xerkizh The Creator



4 kills



January 5th, 2004 17:14:40
- Wyld
---

December 14th, 2003 15:00:28
Holy Crap Batman! This event was very challenging for us to say the least. 1st try: 5 Kings down, 2nd try: 12 Kings down but failed to pull Buttox before he poofed, 3rd try: Bert pulled and wipe at 36%, 4th try today: 12 Kings down in 1 hour 16 minutes, Bertoxx slain. I can't say enough about the focus and intensity that went into getting this win and none of us expected it so soon. What a huge relief it is to get one of the hardest pre-Sol Ro flags out of the way. We had a few outsiders along for the backflag, I believe 1 chrono and a few Illum, Gratz guys on your flag. The loot really means nothing because the difficulty of the encounter is greater than the loot reward but I will list it anyway. I gotta say its a tough two drops to get. Gratz to Lenthar The Rotting Fist, and Gratz to Ander who won the Circle of Rotting Flesh. We will be back to backflag some people that were not able to attend the raid. I promised Prime that if they were able to get Bertoxx down then I guaranteed them a field trip to Sol Ro Tower. I guess the pressure is all on me now to come through with that promise. Gratz Ptime you guys did awesome on this one. We will continue to progress through PoP the same as we have all previous challenges and I look forward to our next progression kill. WTG on a job well done.
- Wyld
---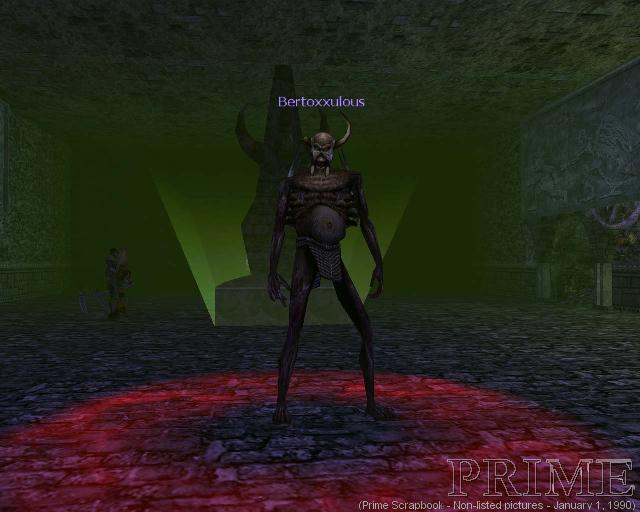 December 7th, 2003 13:43:24
As I said on our last update, we completed all bosses in Luclin and would be starting on the PoP progression. We still havn't farmed Luclin much but with all bosses down Luclin is now just an option for raid day rather than a place where we need wins. We decided to start our road to Sol Ro by taking on Bertox. A couple of successful Carprin cycles and we had our first try at Bertox on Wednesday this week and failed pretty badly. Today on our second run we had a much improved performance and managed to get all 12 Kings down in under 2 hours. The result seen in this pic, Bertoxxulous spawned. 50 Prime and 2 tries felt like a win when he popped and shot us the finger. I think we had about 6 minutes left on the timer when the 12th and final King went down so we were running around like mad trying to get set for this fight. Inexperience prevailed and he despawned just as we were going to pull him and do battle. The thing that strikes me about this event is that each of the teams have to be on top of thier game for the full 2 hours and any mistakes at all can cost you a loss. The whole thing seems chaotic even with our best efforts to keep the communication at a high level and pre-plan all our movements for each possible problem that could occur. Even as we were setting up to pull Bertox the adds just kept on coming and its possible we didn't even pick the best spot to pull him to. Overall I am extremely pleased with the effort that went into spawning Bertox. My guildmates played thier asses off and we came up just short of the "W". Yes it was a loss and I don't often post about losses but this one felt worthy of a statement. We raid with lower numbers than some guilds do and we have only had 2 shots at this headache of a ring event but I am damn proud of this effort and hope to post a shot of his corpse in the near future. WTG Prime, very good effort.
- Wyld
---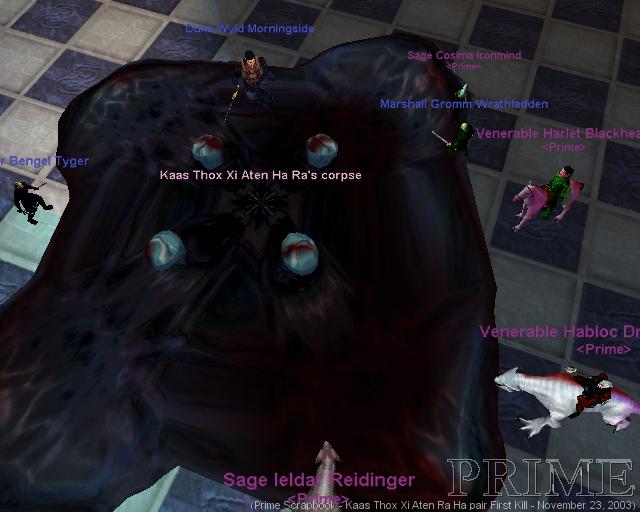 November 23rd, 2003 22:15:40
Well finally this is the last VT update. All bosses have been defeated, I believe there are 12 in all. Today we started on the first floor and hit blob1 in the head with a brick until he surrendered. From there we got DXXT then ported up and killed TVK. We fought over to Diabo Xi Va Temariel and then ported up to the 3rd floor to get our final bosses the blobs known as Kaas Thox Xi Aten Ha Ra Maria Conchita Alonzo Gonzalez. The best thing about this raid for us is that we fought from zin all the way to the porter to AHR in 7 hours, killing 6 bosses. An average of 42 people in the raid window and we cleared from Zin to AHR in 7 hours. 21 total drops but I don't feel like listing them all so I will just link the new loot from the (2) 3rd floor blobs. Gratz Jelly Wand of Everlasting Water, Gratz to both Kummen and Rasa who won Crown of Energy, Gratz to Wolfenheart who won the Ancient: Scourge of Nife, Gratz to Ylaana Orb of Satisfaction, Gratz Hawnz Mask of Dark Thoughts, Gratz Meak Spiked Shoulderpads, and finally Gratz Asteroidea Ancient: Master of Death. We will be back to farm VT until we have around 10 kills on each boss but this will be the last update because there are no more new kills to be had in Luclin for us. We have taken on the expansion with a limited raid schedule and it has taken us months to experience all of the content but finally it is done. There are no more foes to stand against us in Luclin. The next update will be a PoP boss, I have no idea which. Prime has delayed raiding the PoP expansion as we remained focused on completing Luclin and that day has come. Other than some initial flagging mobs in PoP we have literally not raided there with any real focus. I look forward to the new challenges that await us in Planes of Power as do my members.
- Wyld
---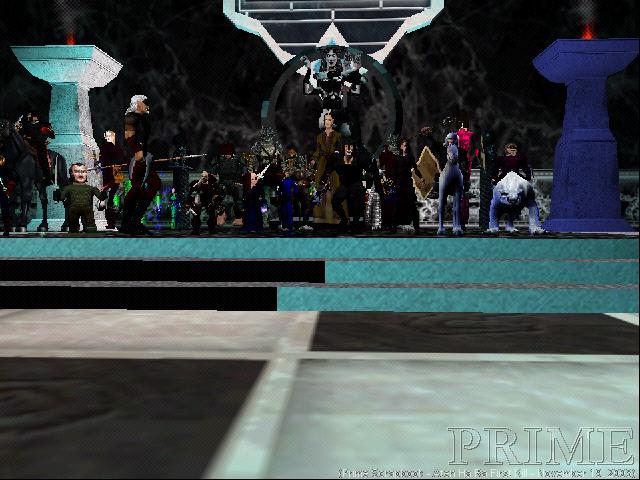 November 19th, 2003 23:06:06
It was a long time coming. The months of emp key farming, shard farming, getting an emp spawn and winning. Wading through metric F-tons of trash mobs in a zone that has to be the most frustrating zone I have ever played in. People that have come and go in the guild. The road from our early days in HoT to the Aten kill was long and it was rough for us. Many never thought we would make it this far on our limited schedule but tonight we did it as a team. I never would have envisioned this on March 11, 2002 when I founded Prime. Tonight at around midnight 41 hard core loyalist to Prime made it to Aten Ha Ra's lair and got the money shot. I can't even begin to describe what this kill means to me, what it means to Prime. I thought the Emp kill was an amazing feeling but Aten tops the list for me. I don't know what to add except that for the 41 Prime that were in attendance including myself, I don't think we will ever forget how this night felt. You know there are alot of raids that are memorable for any Everquest player. From the very start of the raid tonight I told them this night was going to be a milestone for Prime. It felt special from the beginning. They played like demons, mowing through mobs with an efficiency I have rarely seen. Right up until the moment Aten dropped the feeling of tension in the air was palpable. We only killed 3 mobs on the night and I suppose we were damn lucky to get Aten when other guilds could have killed her before we raided. On the way to Aten we killed Thall Xandraux Diabo. Gratz Thesian Bow of Flames, Gratz Jelly Cord of Insight, Gratz Kummen Boots of the Wind, and Gratz Ylaana Ancient: Gift of Aegolism. From there we worked our way over to kill Mini-Aten. The drops were superb. Gratz Vargren Earring of Battle, Gratz Madcat Umbracite Hoop, Gratz Ieldar Necklace of Endless Concepts, Gratz Asteroidea Ancient: Lifebane. Finally we moved on to fight Aten Ha Ra. Gratz Suzara Torch of Judgement, Gratz Highr Leggings of Secrets, Gratz Huggmee Crimson Runed Mask. Lastly I want to say a heart felt thank you to the members of Prime. As a symbol of gratitude to me they opted to let me loot the final drop and I am overwhelmed by the gesture. TY Prime so much for sticking it out through good times and bad to get this kill. Talisman of Vah Kerrath Thanks for the good times Prime.
- Wyld
---